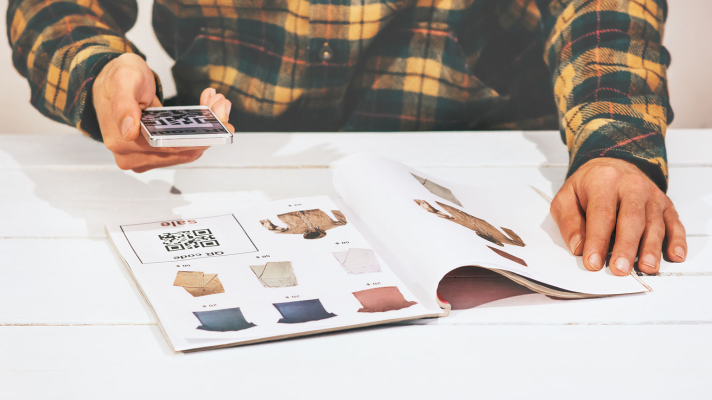 The Power of Combining Printed & Digital Catalogs
In the age of digital dominance, businesses must make sure their marketing strategies are relevant and efficient. By embracing the power of combining printed and digital catalogs, catalogers can elevate their business' reach and impact. Join us as we navigate the benefits of incorporating these two components in your B2B marketing efforts.
The Enduring Power of Printed Catalogs
In today's fast-paced digital landscape, some may question the relevance of printed catalogs. However, studies have shown that printed catalogs continue to wield significant influence in B2B marketing. In fact, a study released in 2021 revealed that 66 percent of adults prefer reading printed media to digital. This is not coincidental, there are a few reasons why:
Tangibility and Credibility: Printed catalogs are a tangible representation of your brand. They allow customers to fully engage with your products. The weight, texture and quality of a well-designed catalog can enhance your brand's credibility and leave an impression on recipients.
Targeted Reach: By distributing printed catalogs to specific B2B prospects, you can ensure your message captures the attention of the right audience.
Enhanced Brand Awareness: By highlighting your products and brand identity through captivating visuals and engaging content, you can increase brand recognition and forge a stronger connection with your audience.
In a previous blog post, we explored the neuroscience of touch and its impact on the brain. We found that paper, through a combination of sight and touch, has the power to create a lasting impression. The endowment effect reveals that ownership enhances a product's value. Merely touching an object triggers this effect, increasing its perceived worth in the eyes of customers.
Touch fosters deeper engagement, surpassing the impact of sight or sound alone. Studies have shown that physical media promotes better reading comprehension compared to digital. The neuroscience of touch reveals that paper thrives as a tangible medium due to its ability to enhance intuitive navigation, facilitate mental mapping and demand fewer cognitive resources for better information retention.
Unlocking the Potential of Digital Catalogs
While printed catalogs hold undeniable power, digital catalogs provide an opportunity to extend your reach and enhance customer convenience. Here is why incorporating digital catalogs into your marketing strategy is beneficial:
Accessibility: Digital catalogs transcend geographic boundaries, allowing businesses to reach prospects everywhere. With a few clicks, potential customers can access your catalog from anywhere in the world.
Cost-Effective Distribution: Digital catalogs offer a cost-effective solution for businesses of all sizes, and you can identify and reach many potential customers at one time.
Immersion: Digital catalogs offer embedded interactive features such as augmented reality, videos and more, providing an immersive experience for customers. With a click, they can explore additional product details, access related content and make direct purchases.
Digital catalogs also give you the ability to track customer engagement. By using dynamic QR codes, you can track customer engagement. You gain insight into what works in your catalog marketing by comparing unique locations, scan times, orders and more.
Combining Printed and Digital Catalogs
Printed and digital catalogs are not mutually exclusive. Businesses can leverage the complementary strengths of both and maximize impact. Here's how you can harness the power of combining the two mediums:
Cross-Promotion: Incorporate QR codes strategically within your printed catalogs to seamlessly bridge the gap between print and digital. By scanning QR codes, customers can instantly access the digital version of the catalog, unlocking additional content.
Multi-Channel Engagement: Reach a wide audience by promoting both printed and digital catalogs through email campaigns, social media and your website. This multi-channel approach increases engagement and accessibility, ensuring customers encounter your catalog in their preferred format.
Data-Driven Insights: Digital catalogs provide valuable data on customer behavior, such as time spent on specific pages and more. By analyzing this data, you gain insight into customer preferences, and can refine your marketing strategies to create personalized experiences for your target audience.
Additionally, combining printed and digital catalogs creates comprehensive product presentation. Printed catalogs offer tangibility, while digital catalogs provide immersion. This combination delivers a multi-sensory experience for your customers.
Tactile in nature, printed catalogs allow customers to interact physically. Digital catalogs leverage enhanced multimedia features for an enhanced visual experience. By integrating both formats, businesses can captivate customers, provide relevant content and drive conversions cohesively.
How Walsworth Can Help
As print experts, we know a thing or two about catalogs. Walsworth is here to help you unlock the full potential of your marketing campaigns. We want to power your business with the tools and expertise needed to create catalogs that captivate your audience on any platform. Here are a few resources we offer to help you reach your goals:
Printing: With over 86 years of experience, Walsworth is the print expert. We have plenty of print options including:
App Development: Our app development services give your business the ability to create, publish and measure with ease. We have launched 300+ mobile apps for publications, catalogs and more.
Digital Conversion: In addition to our app development service, Walsworth Apps can also convert your publication into a digital version. The Klein Tools case study serves as a notable example of how Walsworth's solutions help increase B2B revenue and connect audiences.
Mailing Service: Walsworth helps streamline catalog mailing processes by working with businesses to find out how we can make their distribution seamless. We will schedule a personal onboarding call to discuss permit usage, certified software, ways to save money and more.
Key Takeaways
In the landscape of B2B catalog marketing, a comprehensive approach that combines printed and digital platforms can yield remarkable results. By providing both a printed catalog and a digital version, businesses can expand their customer base, enhance brand awareness and accessibility, while also increasing their revenue. As always, our experts here at Walsworth are here to help by offering a wide array of services customized to fit your needs.
For a more in-depth look at what we do, please visit our website at www.walsworth.com.