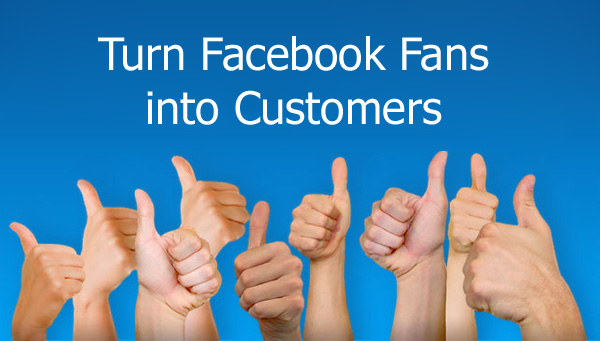 5 Steps for Turning Facebook Fans into Customers
Facebook isn't just a social media website for sharing personal status updates and photographs anymore. It's also a place where thousands of businesses are finding new customers.
With Facebook's sophisticated and precise audience-targeting capability, it has become a powerful marketing tool. The most effective Facebook marketing strategy is to offer a free, but high-value, product such as an eBook or webinar, so you can turn fans into new email subscribers.
If you are considering adding Facebook marketing to your advertising game plan, here are the five steps for turning Facebook fans into customers to grow your business or organization.
Step 1: Define
Begin by defining your objective and ideal customer. Defining what you want to accomplish and who you want to attract are essential to planning an effective Facebook marketing campaign. Questions to ask include:
What is your objective?
Are you trying to add subscribers to your email list?
Are you trying to get more page Likes?
Are you trying to get more leads?
Are you trying to get attendees to a conference or webinar?
Who is your ideal customer?
Define the characteristics of your ideal customer – who they are, what they do as well as understanding their interests and behaviors by asking questions such as:
What percentage of your customers is female?
What percentage of your customers is male?
Is your ideal customer single or married?
Do your ideal customers have children?
Which occupations best represent your ideal customer?
What is your ideal customers' income level?
Where do your ideal customers live?
What magazines and newspapers do they read?
What websites do they like to visit?
Do your ideal customers shop online?
Do they attend seminars and conferences? If so, which ones?
Understanding the answers to these questions will help you create a compelling Facebook ad with the right messaging, imagery and call to action.
Step 2: Attract
Once you have defined your objective and audience, the next step is to consider how you want to attract your ideal customer. In this step, you need to determine the high-value free offer. Here are the best practices to follow when deciding what to give away:
The giveaway is what you plan to give your ideal customer for free in exchange for their contact information (name, email, etc.). Receiving their contact information gives you the ability to sell your service or product so you can generate revenue later in the sales process.
Make certain your highly desired free giveaway is aligned with your service or product that you are planning to sell.
Look at your best-performing website article or blog posts for eBook content ideas.
Ask your customers via social media what they value most from your business or organization.
What questions do your customers ask most often and then consider how you could provide the answers for free.
Next, create your free offer and determine how it will be delivered:
Webinar
PDF
In-person workshop/seminar
Audio file
Video file
One-on-one consulting call
Access to a private Facebook group
Once you have decided on the free giveaway offer and its delivery method, you'll need to create a Facebook ad targeted to your ideal customers. Click here to learn how to create a Facebook ad.
Special Announcement: Coming in January we'll have additional social media insights on the Walsworth blog to help you learn how to create successful Facebook ad campaigns!
If you have questions right now, please feel free to contact us.
Step 3: Engage
The next step is to create a landing page. The landing page is where the Facebook user will go after clicking your ad. The purpose for the landing page is to convert the Facebook user into a prospect by encouraging the visitor to provide their contact information (name, email, etc.) for your free giveaway offer.
For more information on creating great landing pages, check out these articles:
Step 4: Convert
After collecting the names and email addresses from your landing page, the next step is to convert these landing page submissions. This is accomplished with email marketing. Your email campaign should be a series of three to five emails that communicate to the prospect the products, service or program you are selling.
Refer to these email best practice articles for tips on how to leverage email to convert prospects into customers:
Step 5: Measure
The last step is to measure the results of the Facebook marketing campaign. Specifically, measure these items:
Did you achieve your objective?
Did you reach your ideal customer?
Did you increase Likes for your Facebook business page?
How may new leads did you acquire?
How many new customers (sales) did you gain?