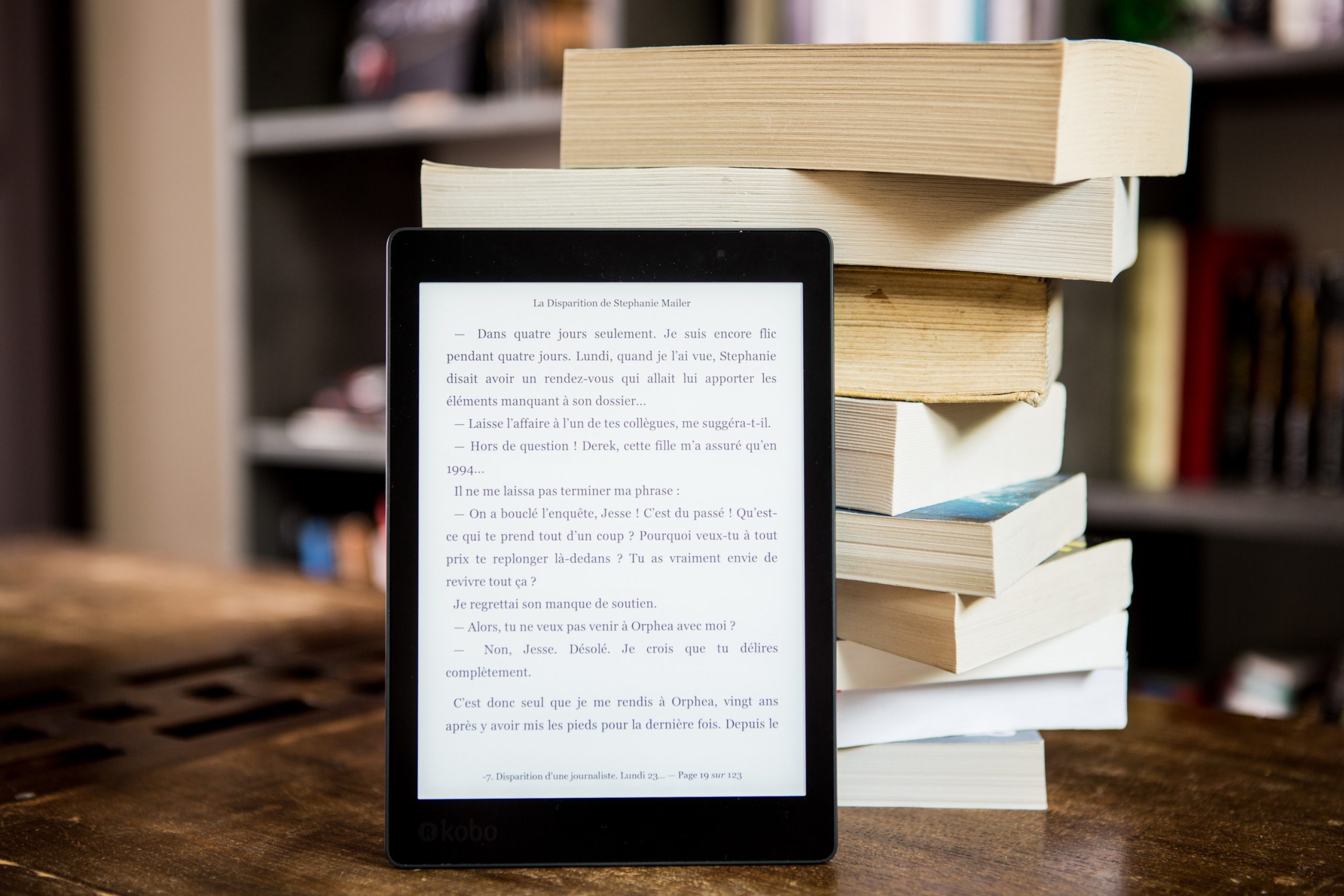 A History of Disruption in the Book Industry
For something that can be traced back hundreds or thousands of years, the book industry is still evolving. In fact, the history of the book industry has seen some of its biggest changes within the last 40 years! From ancient clay tablets to Gutenberg's press to the appearance of the Kindle, the book industry is always adapting to disruptions.
Technology Breakthroughs
Way, Way Back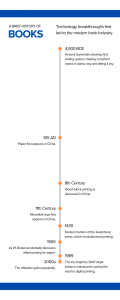 The first step toward modern publishing is believed to have been taken between 3,000 and 4,000 BCE. The ancient Sumerians in southern Mesopotamia started using cuneiform, making marks on wet clay tablets. Those tablets would bake in the sun or a kiln, preserving written information for others to read later. This is the first known instance of writing.
As societies flourished and expanded, so did the demand for written texts. The ancient Egyptians, Greeks and Romans, among others, employed skilled scribes to meticulously transcribe books by hand. These hand-drawn manuscripts took a lot of time and skill to recreate. Scribes wrote on papyrus, parchment or vellum. Paper first appeared around AD 105 in China. Ts'ai Lun, an official in the Imperial court, created a sheet of paper using mulberry and other fibers. From China, papermaking slowly spread to the rest of the world over several hundred years.
The next step toward modern publishing happened in 8th-century China. Wood-block printing allowed for multiple copies of the same image or manuscript. Craftspeople would carve words and pictures into wooden blocks, ink them, and transfer that ink to paper. Movable type appeared in China in the 11th century.
Johannes Gutenberg changed the whole world with his mechanized printing press. The earliest mention of this press appeared in a Strasbourg lawsuit in 1439. A Bible printed in 1455 is the oldest book from Gutenberg's press still in existence. This printing press marked a pivotal point in history. It allowed the widespread dissemination of knowledge for the first time in European history.
Offset Printing 
With the accidental discovery of offset printing in the early 20th century, print improved in quality. Ira W. Rubel owned a lithography shop in Nutley, New Jersey. He had been using the classic lithography method, which transferred ink directly from a metal or stone plate to paper. When Rubel forgot to load a sheet and the ink transferred to the rubber offset cylinder instead, he noticed that the resulting images were sharper and clearer.
Digital Development 
Commercial printers have long defaulted to offset printing as their preferred method. Offset printing has an initial setup cost, but the price per book decreases as the amount printed in a run increases. Initially, the quality of digital printing couldn't compete with offset. However, as digital printing improved so did its popularity.
The Iris Graphics 3047 inkjet printer was first introduced in 1989. That same year Graham Nash, best known as a member of the music group Crosby, Stills & Nash, saw the 3047 in action and decided to buy his own to print reproductions of his own fine art photography. Nash went on to found Nash Editions, which helped champion the use and improvement of digital printing to create fine art prints.
Digital printing opened the door to publishers who preferred smaller runs. Its lower setup cost made book printing more accessible to self-publishers and also opened the doors for print-on-demand.
A Changing Industry
Big Bookstores
Do you remember the period of time when Barnes & Noble was portrayed as the villain?  In the romantic comedy You've Got Mail – which came out in 1998 – Tom Hanks plays the owner of Fox Books, a thinly disguised representation of Barnes & Noble. In the movie, the Fox Books superstore threatens to drive Meg Ryan's small children's bookstore out of business. The Decoder Ring podcast did an episode on why this premise could have only worked in the 1990s.
This was a relatively brief period of time that had a huge impact on the book industry. Laura J. Miller, an associate professor of sociology at Brandeis University, wrote about this shift in "Perpetual Turmoil: Book retailing in the twenty-first century United States." As big retailers like Barnes & Noble and Borders grew, the number of independent bookstores fell.
When mass merchandisers like Wal-Mart and Target began carrying popular book titles, it pushed book prices even lower. The deep discounts they offered changed consumer perception of books. Miller wrote "books had once shared with luxury items the quality of being hard to find."
The era of giant chain bookstores arguably closed when Borders filed for bankruptcy in February 2011.
Amazon Approaches 
Retail giant Amazon was founded in 1994 as an online bookseller. It wasn't the first online bookseller, but it was the most successful. Founder Jeff Bezos, a former Wall Street hedge fund executive, chose books because research showed they were the most logical product to sell online. From the start, he argued that Amazon.com was not a bookseller, but a technology company that sold books. Bezos viewed their primary business as simplifying online transactions.
The convenience of purchasing books through Amazon made them even more accessible to consumers, further removing books from the perception of being a luxury good.
The eBook Era 
The first eBook reader (also called an eReader) appeared in the late 1990s but was deemed a failure due to lack of interest. The eBook push that began in the mid-2000s was much more successful. This was in part because technology had improved, but also because eBooks now had the backing of Amazon.
Amazon released its Kindle eReader in November 2007. It enticed readers by discounting the price of the eBooks available. The Kindle and its competitors – the iPad, Sony Reader and Barnes & Noble's Nook – found popularity that initially worried retailers of physical books. However, the demand wasn't as straightforward as it seemed.
"Book and electronics professionals worked very hard to create the demand through marketing campaigns and discounts," Miller wrote. Publishers invested resources and took risks to promote their eReaders and drive readership of eBooks. This push initially made it seem like eBooks would inevitably replace print. But that didn't come to pass. While eBook sales have grown, they've never come close to overtaking sales of print books.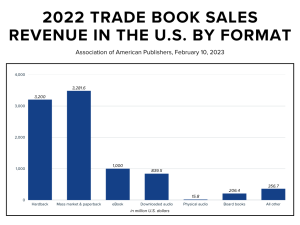 Printing Prevails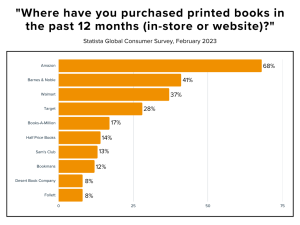 Although eReaders still have their place in society, they never became the reading powerhouse predicted in the 2000s. Pew Research found that 30% reported reading an eBook in the past 12 months, but 65% reported reading a print book. And numerous resources show that Gen Z, despite being defined as "digital natives," value print over digital books in many situations.
The convenience of online sales still draws customers. A survey by Statista asked 3,490 shoppers where they purchased books in the past 12 months, including both online and in-store. Amazon had the most by far, with 68% saying they had purchased a book from Amazon in the past 12 months.
Even though retail giants make the most sales, the number of independent bookstores in the United States has risen. In 2009, the American Booksellers Association reported only 1,651 locations of independent bookstores. In 2015 that number was up to 2,227. The highest number recorded was in 2019 with 2,524. Independent bookstores took a dip with the COVID pandemic, but in 2022 the number was back up to 2,506.
Audiobooks 
One format to keep an eye on is audiobooks. Sales revenues of audiobooks have been continually growing, from $342.2 million in 2017 to $839.5 million in 2022. The Audio Publishers Association tracked exponential growth of available audiobooks in less than 20 years. In 2007, only 3,073 titles were available. By 2021, that number had ballooned to almost 74,000.
It appears convenience is part of the appeal. Audiobooks are a popular format to consume at home or in the car and while multitasking. In fact, 73.4% of women and 66.1% of men said they multi-task while listening to audiobooks.
The rising popularity of audiobooks could be good for publishers. Nearly half of audiobook listeners said they buy the same book in multiple formats and almost 70% said they are avid book readers or listeners.
Where to now?
All this information shows that the book industry is not easy to predict, but that it's continued to evolve and stand the test of time and technology. Despite its long history, parts of the industry change and others stay the same. But one thing stays the same: people read books. They have for centuries now and they'll keep reading books.
We're excited to see what happens with the industry in the future.  New formats may appear, and existing mediums will rise and fall in popularity. However, we're confident in the lasting popularity of the printed book. Despite all the options currently available, print remains the medium of choice. It's been around for centuries and hasn't fallen out of favor.