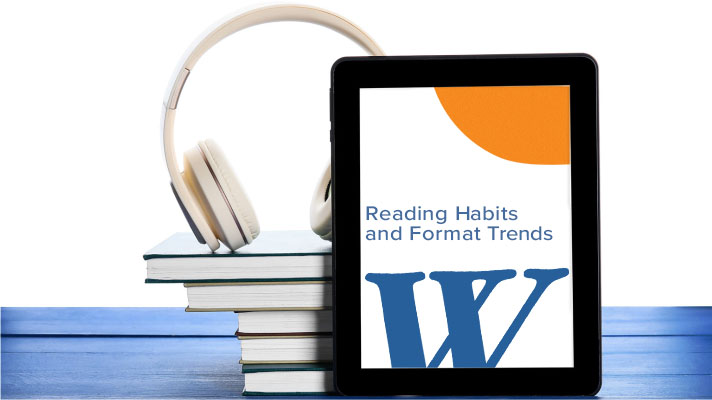 Reading Habits and Format Trends
New book formats have been rising and falling in popularity for decades now. But what exactly is meant by "book formats"? For our purposes, we'll discuss electronic media, traditional print and graphic-heavy approaches. New entertainment options have been competing for both time and attention, but reading books has held its own as a pastime. Let's look at what the numbers say about reading habits and book formats.
Book Buying Habits by Month
Books sales have a seasonality. Certain times of the year have higher sales. Unsurprisingly, December is a high point every year. It makes sense sales would increase around the gift-giving holiday season. December is also a time when many workers take vacation time. Depending on the book given, this can represent a splurge or luxury gift. It may be an insightful gift into the receiver's character, an acknowledgment of talents or interests, or so many other aspects of the giver and receiver. Books as a gift often represent a deeper understanding within a relationship, so purchases naturally spike during gift heavy holidays.
Time Spent Reading
Apart from 2020 – when many were stuck at home – the average daily time spent reading has remained flat. On weekdays, the average American reads for less than 30 minutes per weekday for the period from 2018 to 2021. Weekend reading numbers were equally under an hour across the same time frame.
Number of Books Read
A Pew Research study divided readers into eight categories, by the number of books they'd read in the previous 12 months. The biggest cohort was those who said they hadn't read any books, at 23%. However, the second-largest group was the "super-readers," those who self-reported having read more than 20 books in the previous 12 months.
Why Read Books?
Even with all the distractions available these days – social media, video games, Netflix – books are still being read. Reading habits and format trends have changed, but the appeal of books has never gone away. No matter what technology comes along, the basic technology of ink on paper will always hold a place in our lives. Curling up with a good screen just doesn't sound nearly as relaxing as the alternative you're already thinking of!
Cognitive Benefits
Reading books, engages our minds in a unique way. It stimulates critical thinking, enhances concentration and improves memory retention. Studies have shown reading can boost analytical skills, expand vocabulary, and increase overall cognitive abilities. Unlike the fleeting nature of online content, books provide a deep and immersive experience. That experience encourages sustained focus and intellectual growth. Studies have demonstrated that the interaction of additional senses improves both understanding and retention. Holding a book, even sometimes smelling the "library" while you read it, improves the experience's cognitive impact.
Escapism
Reading provides an escape. It allows us to disconnect and immerse ourselves in new narratives. Getting lost in a book can reduce stress, alleviate anxiety and promote mental well-being.
Emotional and Empathetic Connections
Books have the power to evoke strong emotions. They can create meaningful connections between readers and characters. Through literature, readers can explore diverse perspectives, cultures, and experiences. Those experiences foster empathy and understanding. Books offer a window into the human condition, helping us relate to others and develop our emotional intelligence.
Deep Learning and Critical Thinking
Books provide in-depth knowledge on a wide range of subjects. Through reading, we engage in deep learning, connecting ideas and forming our own thoughts and opinions. Books encourage critical thinking, enabling us to evaluate, analyze and question the content we encounter. They can cause us to question what "we know" and to explore and understand the differences.
Digital Detox and Restoring Balance
In a world of constant digital connectivity, physically printed books can offer a valuable respite. It provides an opportunity to disconnect from screens. It's a reprieve from the distractions of incoming emails, texts and other intrusions. Reading a printed book allows us to find balance in our lives. Engaging with a printed book encourages a slower, more deliberate pace, promoting mindfulness and a break from the constant distractions of the digital realm.
Changing Trends in Book Formats
Over the years, the landscape of book formats has undergone big transformations. Technological advancements and shifting reader preferences have sparked numerous changes. This gave rise to diverse formats catering to different needs and preferences.
Rise of eBooks and Digital Reading
The advent of eBooks was expected to revolutionize the publishing industry. They provided readers with portable and easily accessible digital versions of their favorite books. While eBooks have gained widespread popularity due to their convenience, they haven't been the juggernaut they were initially expected to be. In 2022, eBooks made up about 11% of trade book sales revenue. A May 2023 report from Statista shared "e-book sales growth is sluggish. The number of e-books sold each year is notoriously difficult to track and results depend on the data provided by publishers, and official figures show annual e-book revenue has yet to reach 1.5 billion U.S. dollars."
Resurgence of Print Books
Contrary to predictions of their demise, printed books have experienced a significant resurgence. Readers still cherish the tactile experience of holding a physical book and turning its pages. They appreciate the aesthetic value of a well-designed cover. A 2020 survey by Statista and Civic Science found new printed books were the overwhelming favorite among U.S. adults. Out of those surveyed, 39% preferred the format. The second-favorite book to purchase? Used printed books. Almost a third –  31% of respondents – said they preferred used print books. Meanwhile, 25% said they preferred eBooks and 5% chose audiobooks. Even in the midst of the pandemic, demand for printed books outstripped demand for digital readers.
Audiobooks for Multitasking and Learning
Audiobooks have gained in popularity over the last decade. Sales revenue from downloaded audiobooks in the U.S. more than doubled in five years – from $342.2 million in 2017 to $839.5 in 2022. Audiobooks hold special appeal for individuals who multitask. They're also being used as a tool in classrooms, allowing students to follow along while they're learning to read. Sales of physical audiobooks – like CDs or the giant sets of cassette tapes I used to play during road trips in my 1991 Oldsmobile Cutlass Ciera – have declined since 2017. At the same time, revenue for downloaded audio – the audiobooks downloaded directly to your phone or tablet – has grown. A Statista report from May 2023 predicted "audiobooks will continue to gather ground. Print, however, is still the preferred book format."
Comics and Graphic Novels
Comics and graphic novels – especially manga – have seen explosive growth in recent years, especially in the United States. NPD Books executive director and industry analyst Kristen McLean said, "Comics and graphic novels have seen some of the fastest growth in the [US] industry since 2019, driven by unique factors including increased anime viewing during the pandemic driving new fandom for manga, consolidated sales of certain high-profile children's series such as the 'Dogman' books in many outlets over the last few years, and the elevation of content from next-generation platforms like Webtoon making the leap into page and screen." In 2022, manga sales brought in more than $246 million in the U.S., making up 54% of total graphic novel sales. A June 2022 report by ICV2, Comichron and Statista showed revenue for printed comics and graphic novels reached $1.9 billion in 2021. In the same period, digital editions brought in just $170 million in revenue.
Graphics novels geared toward younger readers are expected to do especially well in the near future. "There were always [graphic novels] in the YA space but there are more for younger readers now. Part of that is a reaction to the disruption to education during the pandemic, but there are some really interesting things going on," Bounce Marketing's Robert Snuggs told The Bookseller.
Reading Communities and Social Media Influence
Online book clubs, reading communities and social media platforms have transformed the way readers discover, discuss and recommend books. Platforms like Goodreads, Bookstagram and especially BookTok enable readers to connect, share recommendations and spread the word about little-known books. Social media influencers and "booktubers" also play a significant role in shaping reading trends and influencing book purchases. NPD BookScan's Kristen McLean believes #BookTok will continue to drive book sales for a long time. She reported the group of BookTok-using authors they follow had a sales gain of 60% in 2022.
Artificial Intelligence
AI could be the next big disruptor to the book industry. However, it likely won't be AI doing the writing for a while. An April 2023 survey found 34% of respondents were "not at all interested" in reading a book written entirely by AI. When asked if they would be interested in reading a book partially written by AI, 30% of those surveyed still said "not at all." A 2020 article in Forbes described AI-written books as "unreadable." However, as the technology advances, publishers are keeping an eye on it. Publishers Weekly didn't think AI would be writing or editing all new books anytime soon, but it might play a role in distribution and marketing, or in weeding out the "slush pile" at publishing houses.
Times Keep on Changing
Despite the prevalence of digital technology vying for our attention, book reading continues to hold immense importance. New devices continue to pop up, but physically printed books remain the preferred format.
The changing landscape of books reflects the evolving preferences and needs of readers in the digital age. While eBooks and digital reading offer convenience, printed books continue to thrive, offering a sensory experience and a connection to tradition. Audiobooks provide an alternative way to consume stories. Online communities now play a big role in what people choose to read. As technology advances and reader preferences continue to evolve, it will be fascinating to see how book formats and reading habits adapt to meet the changing needs and desires of readers in the future.
Interested in putting your idea into print? Let's talk!