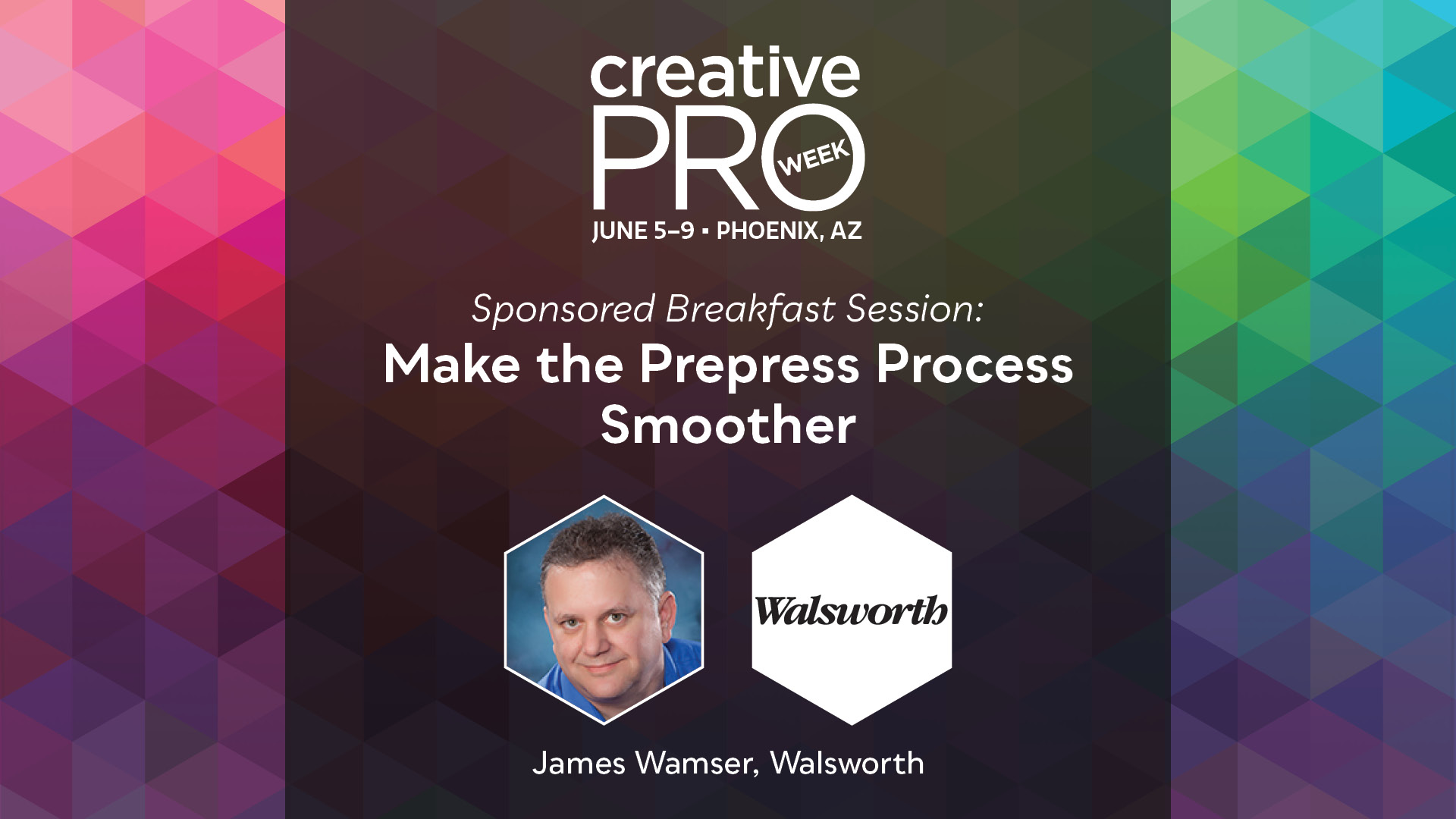 CreativePro Week with James Wamser
The highly anticipated CreativePro Week conference, a premier how-to seminar for creative professionals, recently concluded in Phoenix, Arizona. Taking place from June 5 to 9, the event drew more than 500 enthusiastic individuals both in-person and virtually eager to learn and be inspired. Walsworth was honored to be a sponsor at the event, which included a dedicated table where we could engage and network with fellow sponsors and attendees. One of our very own, James Wamser, took the stage during CreativePro Week to share his expertise and insights. Wamser added tremendous value to the event, further solidifying our commitment to empowering the creative communities we support. Featured in this article are tips from Wamser – who is an Adobe Certified instructor – on how to improve productivity, along with the resources we provide here at Walsworth.
CreativePro Week
The InDesign Conference, now part of CreativePro Week, was established in 2004. The conference was designed exclusively for creative professionals utilizing InDesign, Photoshop, Illustrator, Acrobat, PowerPoint and other Adobe software. CreativePro Week attracts a diverse range of participants, including graphic designers, production artists, creative managers, educators, small publishers, workflow consultants, and more. More than 2,500 companies, universities, and government agencies sent their design and production staff to Creative Pro week. These organizations recognize the value of this extraordinary event. This community encompasses a broad spectrum of expertise, spanning from newcomers to seasoned professionals, with one common interest: remaining on the cutting edge of design practices and advancements.
In a rapidly evolving industry, CreativePro Week keeps users at the forefront, fostering continuous professional growth. Featuring over 30 industry experts and 75+ valuable sessions, CreativePro Week equips users, regardless of proficiency, with the latest techniques and best practices to enhance productivity. Attendees were also given a full year of on-demand access. This includes all session recordings for the days registered, hundreds of pages of resources from the world's top experts, and alumni discount savings.
In case you missed this year's conference, On-Demand Passes are still available to purchase.
Meet James Wamser
James Wamser is an Adobe Certified Expert and Instructor. Wamser serves as a Customer Education Specialist at Walsworth's Ripon, Wisconsin, facility. Since 2004, he has also taught InDesign, Illustrator and Photoshop at Milwaukee Area Technical College and chairs the Milwaukee InDesign User Group. Wamser is widely recognized for his expertise and regularly presents at seminars and workshops, sharing his knowledge and insights. With a wealth of experience in the field, he excels in educating customers and helping them maximize their understanding of Adobe products by providing them with guides, templates and more. Wamser's contributions to customer education and his dedication to sharing his expertise, make him an invaluable asset to Walsworth.
Make the Prepress Process Smoother
The topic of the presentation James Wamser gave at CreativePro week was titled, "How to Make the Prepress Process Smoother." Wamser emphasized the crucial role that creative professionals play in ensuring a smooth prepress process. He explained that by implementing these practices, you can significantly contribute to the overall efficiency of your workflow.
Building your document to the final trim size with 1/8-inch margins and bleed: By adhering to this trim size and incorporating appropriate margins and bleed, you can minimize the chances of error and ensure your design elements are preserved during the printing process.
Utilizing templates, especially for perfect bound covers: Templates provide a solid foundation for your designs, ensuring consistency and compatibility. When working on complex projects like perfect bound covers, leveraging templates can streamline your workflow and save valuable time.
Obtaining Preflight and PDF Export Settings from your printer: By collaborating with Walsworth, you can access specific preflight and PDF export settings tailored to your requirements. This proactive approach eliminates potential issues and ensures your files are print-ready.
Sending test pages before submitting the final PDF: Before submitting the final document, it is advisable to send a few test pages to your printer for review. This step enables you to catch any potential inconsistencies early on, facilitating a more efficient prepress process.
Walsworth's Commitment to Providing Support Within the Prepress Process
Founded more than 85 years ago, Walsworth has grown into a leading printing company. As a company, we thrive on our commitment to exceptional service and innovative ideas, attributed to our customers and dedicated workforce. We are here to help support you in optimizing your prepress workflow. Here are the key services and resources we provide in this process:
Preflight and PDF Export settings: Walsworth understands the importance of providing accurate and reliable preflight and PDF export settings. By tailoring these settings to your specific needs, we enable seamless integration with our printing processes, ensuring a smoother prepress experience.
Templates: We recognize the value of templates in streamlining the design process. Our templates were made to assist creative professionals in maintaining consistency and meeting the necessary specifications for various print projects.
Reviewing test pages and providing feedback: At Walsworth, we prioritize collaboration and offer our expertise to help you refine your designs. By reviewing test pages and providing constructive feedback, we contribute to the continual improvement of your projects, leading to enhanced results.
Key Takeaways
Collaboration and technological progress were central themes throughout the CreativePro Week conference. Despite the rapid pace of innovation, the conference consistently emphasized the significance of staying grounded in core functions. Notably, the event attracted many participants involved in the print industry, affirming its continued growth and relevance. "It was pleasing to see the continued growth of the print industry," James Wamser said, "I even had the opportunity to engage with Adobe representatives to discuss improvements and provide feedback."
Overall, the CreativePro Week conference provided an enriching experience for creative professionals, offering opportunities to network, gain knowledge, and find inspiration. By incorporating James Wamser's insights on streamlining the prepress process, you can significantly enhance the success of your print projects. Through the automation of previously manual tasks, you can maximize your productivity.
As a company, Walsworth remains dedicated to supporting creatives by providing the necessary resources to elevate their efficiency and quality of work. As always, we are here to guide you along your creative journey. Together, we can reach our goals and unlock the full potential of our creative endeavors. To access our library of guides and templates, please visit https://www.walsworth.com/.
Want to talk about a project you have coming up? Get in touch here.